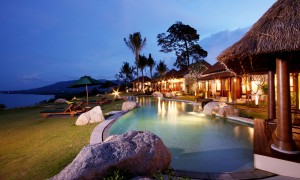 Talk about the world's most visited beach resorts, Pattaya would definitely be included in the list. Pattaya, which literally means "southwest monsoon," is considered as one of the most successful beach resorts in Thailand because of its pristine waters and natural beauty.
Located some two hours away from Bangkok, Pattaya is fast becoming even more popular among tourists who would want to settle here for good. High-rise condominiums are all over the beach front and still keep mushrooming around the area to accommodate foreigners and Thai alike who wish to enjoy life in the beach.
Pattaya beach is situated on a very strategic location. It is near the shopping centers, hotels, bars and restaurants. Indeed, the small fishing village before is now a major tourist attraction – and not just a mere tourist hub, but a second home as well for foreigners who have purchased a piece of property in this lovely city.
The famous 56-storey Pattaya Park Tower can be found at Jomtien beach. The Pattaya Park Tower is part of the Pattaya Park entertainment complex which offers various leisure and sports activities like roller coaster, monorail, a water park, among others. Jomtien beach is still part of Pattaya, only it is being divided from the main strip by Pratumnak Hill. Jomtien is more popularly known for family-oriented activities and is a hub for water-sports enthusiasts as jet skis and parasailing are available in the area. There are beachfront bungalows, hotels and condominiums that are suited for families on vacation. Jomtien is also home to one of the biggest resorts in Asia, the Ambassador City Jomtiens which has more than 4000 rooms for occupancy.
From the shores of Pattaya and Jomtien, boat rentals are available to bring you to nearby island groups where you can enjoy snorkeling and scuba diving. Aside from these, you can immerse yourself and treat your family with an authentic Thai culture experience as there are traditional dances, rituals, art exhibits and Thai boxing events that are held all over the place occasionally.
Tourism in Pattaya district is almost close to perfection. Aside from the homey accommodations, pristine white beach, stamina-boosting water activities and cultural treats, there are even more tourist spots in the area for you and your family to visit and enjoy. There is simply an endless list of things to do when you happen to be in Pattaya. And with the boom of condominium constructions, housing developments and family leisure activities, Pattaya can surely be your home away from home.